If you have a B16A B18C or H22a , Turbocharged DOHC or SOHC VTEC engine we can assist you with getting some more power and economy out of your engine. We aim to make your car more driveable and give you better Fuel economy. We can also tune your aftermarket ECU's.
If you have your own stock OBD1 ecu already we offer an exchange service for your existing ECU with our tested Socketed (sometimes reffered to as chipped) ecu's.
Our Prices vary depending on your requirements, they also depend on the condition of your exchange ECU. Alternatively you can purchase the ECU outright then take your chance selling your ECU.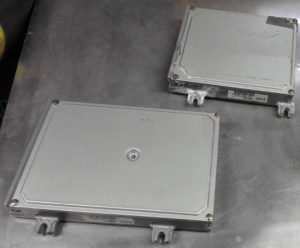 All our exchange ECU's have had the electrolytic Capacitors replaced and workmanship is Guaranteed for 1 Year, (unless stated otherwise).
The Electrolytic Capacitors are replaced as a preventative measure as the original ones are likely past their service lifetime (usually around 2000 hours) and will degrade and eventually leak Damaging the board.
Our tunes carry a Limited Lifetime Guarantee. If your car has not been modified since the tune and there is a particular area you are not happy with we will fix up the tune for Free. (Conditions apply)
We also supply configured Bluetooth modules for you to datalog through your Android device with a purchase of the Third Party App from the Play Store.